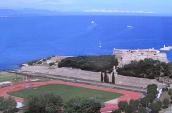 The Fort Carré, in Antibes (France), is reported to be one of the most beautifull stadium in Europe.
In order to train myself to race night and day, and sleep for only 2 or 4 hours, I participate in a 6 days race, to get in gear for my main goal. I expect to reach 700km or 800km. The main point to work on: logistics.
And also...
Yes, I'm going to Monterrey, Mexico, for about 10 to 14 days of effort. Valérie, my spouse, will be my only assistance 24h/24, which is, in itself, a remarquable performance.
Ultra races are also, and very often, a matter of team work.