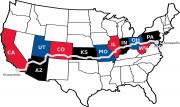 From Oceanside, CA, on the Pacific Coast, to Annapolis, MD, on the Atlantic Coast, the course crosses 12 states.
There are 55 time-stations on the course. They are mandatory check points. There's not necessarily someone waiting for you there, only, you have to tell when you arrive to it, and when you leave it.
They are about 60 miles away from each other. Sometimes more, sometimes less, it depends. It's always a pleasure to get to a time-station, one can check a bullet and think "this is done".
Here's the list of all time stations, from East to West:
During the race, those links (the content of each "TS") is updated. This way, I can tell you what's going on, and keep you informed. My team will handle that. I'll be busy with my pedals.