First name : Christian
Last name: Mauduit
Age: 42 (43 on RAAM 2018 starting line...)
Occupation: software engineer at Datadog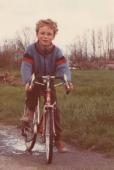 This picture might be older than RAAM (before 1982). This bike was a gift from my grandpa, André. My first racing bike.
In addition to my family, three things interest me, essentially: sport, software, and music.
Concerning sport, I appreciate anything that is called long distance, more precisely those "multi days" events where the clock keeps tickling. The fact is, I started racing about 30 years ago, at the very end of the 80's, but I really got into it in 2004.
I do this to see what I'm capable of, touch the limit, and ideally, push it further. I also noticed any ultra race would bring its load of surprises and emotions. I appreciate adventure, the Unexpected, and meeting people.
For the record, as of today, I:
Those races are all "non-stop" and span on several days. Clock starts, and stops after more than 100 hours.
In terms of quantity, I mostly did running up to 2017, and not that much bike, but I appreciate both. I have a backlog of more than 70 "long distance" race or events composed of road running, trail running, triathlon, audax brevets, etc.
I don't believe in chance, nor in natural talent and definitely not in magic recipes. Rather, I try and train seriously, think about all the problems I could encounter and find an appropriate solution. And, during the race, I keep going, that's it.
Until now, this worked out rather well.