This all starts by a pun "Daddy, is it a long way to America? Shut-up, and keep rowing!" ... It sounds better in French , as RAAM sounds like "rame" which comes from the verb "ramer" ("to row").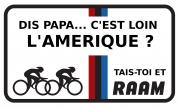 "Tais-toi et RAAM" means "Shut-up, and keep rowing". The traditional answer to "Daddy, is it a long way to America?" in a way-too-old popular French joke.
The Race Across America (RAAM) is a bike race which was born in 1982, it's about 3 000 miles long, features 150 000 feet elevation, a time limit of 12 days (288 hours), desert, mountains, endless plains, it has it all. Very different from stage races like the Tour de France, here the clock never stops tickling. So riders move forward day and night, sleep deprivation being a major player. This year, in 2018, it should start at noon (local time) on Tuesday, June 12th in Oceanside, CA, near San Diego on the Pacific Coast, and finish on Sunday, June 24th at 3:00 pm (still local time) in Annapolis, MD, on the Atlantic Coast. In between, solo and relay team racers will try something which is not impossible, as the finishers list grows every year, but which is rated, for now almost 40 years as "the world's toughest bycicle race".
So, in 2018, I'm going there, registered as a "solo" racer, let's kick it.
Latest news
To know what's up and stay informed:
More information
That's all I have to say about that. Voilą, c'est tout ce que j'ai ą dire sur le sujet.