This might not be exhaustive and precise but well, I tried to list all the "ultras" I've been involved in. The criteria used to select these was tricky to apply in a very deterministic way, after all what is an "ultra"? I chose to only list:
running and walking events of at least 40 miles
bike rides of at least 250 miles
swim over 3 miles
Ironman and longer triathlons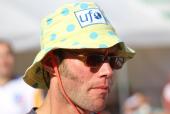 "Done, period" -> might not sound obvious but this is exactly what I was thinking when this picture was taken.
I also did put in official races as well as solo runs AKA "off" events as well as cycling brevets. And among this, I chose those that were significant enough to generate a race report (some of them only available in French). Also, I rounded the distances, this is not about nitpicking over a few hundred yards.
And that's it. Now back to work to keep the list growing. Steady.