Introduction
Liquid War is a unique multiplayer wargame. Its rules are truely original and have been invented by Thomas Colcombet. You control an army of liquid and have to try and eat your opponents. A single player mode is available, but the game is definitely designed to be multiplayer, and has network support.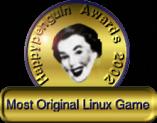 The award Liquid War received from The Linux Game Tome in 2002, for being the "Most Original Linux Game".
It has been ranked "most original Linux Game" by the Linux Game Tome in 2002. It and has also been nominated in the games category at the internationnal free software contest "Les trophées du libre" in 2003. And I was pleased to hear that Liquid War has been distributed on CD-ROM by a fair number of magazines (essentially in Germany).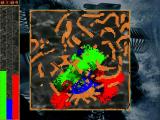 Screenshot of the genuine Liquid War map, the same that was used in the long dead Liquid War 1, 2 and 3.
Liquid War is available for DOS, Windows, GNU/Linux, FreeBSD, Mac OS X, and uses Allegro. It is distributed as free software (free speech, not beer), under the terms of the GNU General Public License ( GPL ).
If you want to know how the game looks like, simply jump to the screenshots section. Liquid War comes with a rather complete documentation , so take the time to read it if you encounter problems with the game. There's also a mailing list if you have questions, suggestions or remarks about the game. And BTW, for programmers and curious guys who wish to understand how Liquid War works, technical information is also available. Finally, Liquid War uses a basic meta-server system which keeps an online list of available internet games .
Note for Liquid War addicts: there's even a Liquid War fanfic !
Liquid War 6
As some of you might already know, Liquid War 6 is on its way. Liquid War 5 will continue to be maintained as long as Liquid War 6 is not fully functionnal and stable. So don't worry, but just know that there are plans for the future 8-)
Quick download
Here you'll find the latest downloadable files concerning Liquid War. If you want to download older releases or if you feel what you need does not appear here, take a look at the complete download section.